Integrity
We always want to do right by our customers.  We believe maintaining an honest working relationship with our clients will help improve the social fabric of the communities we are involved in.  Ethical conduct is firmly rooted within our DNA and we make decisions that benefit YOU, your selected team, and society.
Quality
We believe that the best inspectors do not leave out any detail as detailed reporting equals HIGH QUALITY.  There are no shortcuts and we are proud to deliver the best, most thorough reports throughout the Pacific Rim.
Innovation
We promise to always continue learning and use cutting edge new technology that have revolutionized the industry. From exploring the benefits of infrared technology to researching in-wall cameras, we desire to stay ahead of the curve.  We're constantly searching for new ideas and new product innovations that help us serve you to a greater degree.
Environmentally Sound Business Practices
All of our test, reporting materials, and processes are carefully selected and monitored to ensure they are not harming our planet.
Communication & Customer Service
Without our customer's, we simply would NOT EXIST.  Therefore, we are dedicated to meeting YOUR standards and achieving 100% satisfaction amongst our clients. 
With that in mind we would like to introduce our: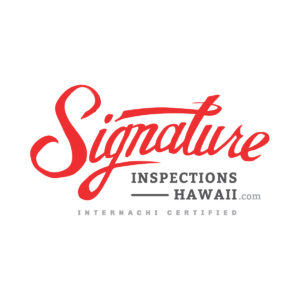 Signature Inspections Hawaii, LLC, is FULLY Insured & "NATIONALLY CERTIFIED" by InterNACHI.  InterNACHI also requires inspectors to continue their education through accredited courses, conferences, online learning, etc… and annual Inspector Certificate Testing in order to hold a current certificate.
808.388.3425
Trevor Drinen  |  CPI Certified Professional Inspector # NACHI16122702
*For a more detailed explanation of the inspection process please feel free to visit: InterNACHI Residential Standards Of Practice and InterNACHI Code Of Ethics .