Signature Inspection Services
From vintage plantation houses, to single wall local-kine ohana homes to modern california style stucco townhouses or high rise steel and glass condos downtown, Signature Inspections Hawaii is here to assist with your residential property purchase or investment.  We desire to make your inspection understandable, informative, and enjoyable.  Inspections can be beneficial to: buyers or investors, sellers, or property managers.
As a buyer or investor, you will be informed of any issues or concerns with the property, therefore are able to purchase with confidence.
As a seller, you will have the ability to identify and address potential deal-breaking issues that a property may have before it is listed.
For property managers, our inspection services can help you in evaluating a property ensuring that you get the best value for it.
From the foundation to the rooftop, we inspect every inch of the home and property.  Plus, all the major systems and components will be inspected. Here's a glimpse of what's inspected before you make one of the biggest purchases of your life.
Appliances:

the condition and operation of built-in and general use appliances

Dishwasher
Ranges
Refrigerators
Waste disposal
Laundry facilities
Microwave
Cooling Systems:

A/C unit and lines, ducting, balancing and housing condition,
Electrical:

Condition of wiring and connections.

Outlets, GIF's, light fixtures, switches, fans, services entrance conductors.
Exterior:

Exterior doors, screens, decks ( lani ), stairs, porches, railings, soffits, fascias and belly bands.

Vegetation and retaining walls when these are likely to adversely affect the structure

exterior fixtures, outlets, windows, and windows screens.
Insulation:

Attic insulation and venting, crawl space insulation and venting
Interior:

the proper operation of windows and doors
the ceiling, walls, floors, steps, stairways and railings

proper operation of windows, sliding glass doors, and entry / exit doors.

the condition and operation of kitchen components

Walls, floors, drywall, attic space, finishes, windows, doors
Plumbing:

Sinks, toilets, utility sinks, and bathtubs for proper function and leakage.

Showers the water heating equipment for proper function and safety.

Water heater, visible piping throughout home, street metter, main water shut off valve, and water pressure readings.

All exterior and interior faucets ( hot / cold ).
Structure & Foundation:

resident foundation and crawlspace

framing and 

the condition of the visible structural components

general indications of foundation movement.

walls, sill plate, and landscape swale
Roof:

general structure of the roof

roof flashing and covering

downspouts, gutters, and hangers

roof vent stacks, skylights, chimneys and other roof penetrations
*Additional Services:
+) Visual Pest and Dry Rot inspection 
+) Mold Inspection ( Service Avaliable Soon )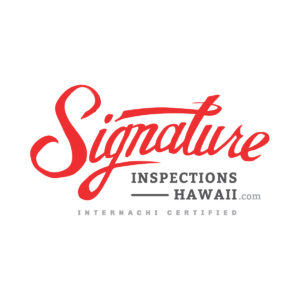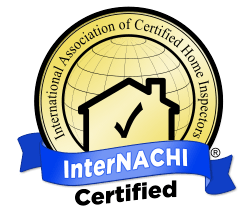 Signature Inspections Hawaii, LLC, is FULLY Insured & "NATIONALLY CERTIFIED" by InterNACHI.  InterNACHI also requires inspectors to continue their education through accredited courses, conferences, online learning, etc… and annual Inspector Certificate Testing in order to hold a current certificate.
Trevor Drinen  |  CPI Certified Professional Inspector # NACHI16122702
*For a more detailed explanation of the inspection process please feel free to visit: InterNACHI Residential Standards Of Practice and InterNACHI Code Of Ethics .