Trevor Drinen is the Founder of Signature Inspections Hawaii.  He and his wife, Leah, have three children and reside on the Windward side of Oahu. Trevor is team-oriented with a passion for excellence. He chooses to network with other dedicated professionals who share his passion for best-in-class customer service.  Trevor is committed to being able to serve each client with excellence and tailors the experience to the client's needs.  Through the years, Trevor's network has been known to put clients at ease and create a "fun" and memorable process unlike any other service they've ever experienced.
Prior to becoming a home inspector Trevor was a Non-profit Director, Pastor, and OSHA / DOE consultant.  As a Non-Profit Director one of his main projects was to weekly inspect the facilities of public schools.  This required weekly inspections and establishing a professional service network which assisted in completing facility upgrades, repairs, and maintenance a timely manner and complied with all the DOE / OSHA standards.
Trevor is currently a Certified Professional Inspector (C.P.I.) and member in good standing of the InterNational Association of Certified Home Inspectors (InterNACHI).  InterNACHI is the world's largest non-profit inspection association of residential and commercial inspectors,  and International Association of Professional Home and Commercial Property Inspectors and an active affiliate with American Society of Home Inspectors (ASHI). 
Trevor holds a Bachelor of Arts degree in Communication from Pacific College in Southern California, an AA from SouthWestern Oregon, and has deep family roots within the MARINE CORPS  "Semper Fidelis"
Trevor's credentials:
CEO Signature Inspections Hawaii (Owner / Operator – Home Restoration & Property Maintenance)

National Home Inspection Certification – InterNACHI

Certified Professional Inspector – CPI # NACHI16122702

Home Inspections

Buyer Inspections

Seller Inspections

CEO TDServicesHawaii (Owner / Operator – Home Restoration & Property Maintenance)

Home & Commercial Consultant

Home Restoration

Property Maintenance ( Rental Properties )

Non-Profit Director (Spirit of Aloha, Inc)

Development of sustainable At-Risk Youth Programs via community partnerships
Established: Trades programs in schools – auto mechanic, culinary programs, etc.
Connecting to programs and students at UH (low-cost & sustainability for participating schools)
Public Educational Facility Improvement
DOE & OSHA Building Liaison (Get Projects Done VS Red Tape Delays)
Weekly Facility and Grounds Inspections
Community Network Liaison (Construction Trade Contract Network & Alumni Support)

HR Supervisor: Safety Officer & OSHA Liaison (RVPro, Inc)

Safety Enforcement and Regulation
Weekly OSHA Compliance
Property / Facility Inspection
Community Affiliations:
American Red Cross Donor 

Big Brothers Big Sisters of Hawaii

Boys and Girls Club of Hawaii

Honolulu YMCA

Kailua Canoe Club 

Make A Difference Day

Sierra Club Hawaii

Surfrider Foundation

Triathlon Club Oahu

USA Triathlon (USAT)

Preserve Hawaii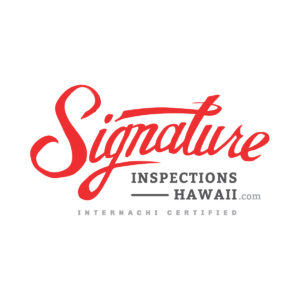 Signature Inspections Hawaii, LLC, is FULLY Insured & "NATIONALLY CERTIFIED" by InterNACHI.  InterNACHI also requires inspectors to continue their education through accredited courses, conferences, online learning, etc… and annual Inspector Certificate Testing in order to hold a current certificate.
808.388.3425
Trevor Drinen  |  CPI Certified Professional Inspector # NACHI16122702
*For a more detailed explanation of the inspection process please feel free to visit: InterNACHI Residential Standards Of Practice and InterNACHI Code Of Ethics .