"I really like that Trevor is very detail oriented while enabling help everyone understand the report finding and feel at ease.  I also admire that Trevor walks through the house while explaining the report.  With his background in construction and a non profit director his ability to listen and communication are the best I have seen. Signature Inspections Hawaii is the only Home Inspection service I will use ." Csaba M – Realtor RB, SRS – Elite Pacific Properties
Click Here To Video Video Testimony / Review
The Real Estate Professional is a key figure in most transactions. These agents have come to value, Signature Inspections Hawaii, because we place a high value on time, efficiency, and partnership.
Our reporting is sent directly to the CLIENT(S) in a PDF format upon completion of the inspection.  Our reports contain notations with dozens of visual aids such as pictures, graphics, and short videos.
We are available 6 days a week. We are punctual, flexible, and go the extra mile to serve our clients.  Don't just take our word for it – call us for a reference list.
Our commitment to all our customers, real estate agents / brokers, & investors:
The client comes first

We are here to serve YOU 6 days a week

Your reputation, like ours, is more important than anything else

We will report according to the InterNACHI – International National Association of Certified Home Inspectors

The client will have a full narrative report within 8 working hours of the inspection

We're constantly searching for new ides and new product innovations that help us serve you to a greater degree
What others are saying about Signature Inspections Hawaii:
"Signature was exceptionally knowledgeable and thorough.  The report was completed and detailed and accompanied by helpful pictures.  Trevor was very warm, friendly and helpful.  He is a man of integrity.  He can be trusted, keeps his word, and is honest.  I highly recommend Signature as the place to go for your home inspection." – Steven and Brenda – Home Buyers
"Trevor greeted us with a handshake and smile, showing us his ID batch for security purposes.  He was there early and did a thorough inspection prior to the Summary with the client.  His technology enables him to email the Report right away and review it on his Ipad with the client before sending.  He stayed to lock up afterwards and was careful not to damage the property during the inspection.  My clients were satisfied and I recommend him for his professionalism and courtesy." Sally M – Realtor – Locations LLC
"Trevor is a true professional who approaches all jobs with the utmost integrity.  You can count on a comprehensive, detailed inspection delivered to you in a timely manner." Kelly L. – Home Seller
"I really like that Trevor is very detail oriented while enabling help everyone understand the report finding and feel at ease.  I also admire that Trevor walks through the house while explaining the report.  With his background in construction and a non profit director his ability to listen and communication are the best I have seen. Signature Inspections Hawaii is the only Home Inspection service I will use ." Csaba M – Realtor RB, SRS – Elite Pacific Properties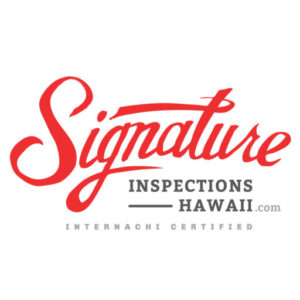 Signature Inspections Hawaii, is a "NATIONALLY CERTIFIED" Home Inspection Company by InterNACHI.  InterNACHI also requires inspectors to continue their education through accredited courses, conferences, online learning, etc… and annual Inspector Certificate Testing in order to hold a current certificate.
*For a more detailed explanation of the inspection process please feel free to visit: InterNACHI Residential Standards Of Practice and InterNACHI Code Of Ethics .