An "energy-efficient" mortgage (EEM) is a mortgage that factors in a homeowner's or home buyer's efforts to conserve energy. These loans allow borrowers to reduce their utility bills by financing the cost of incorporating energy-efficient features, such as certain lighting and window options, into a new or existing home. An energy audit is required to determine the estimated energy savings of proposed efficiency measures.
While they comprise just 1% of the total home loans in the U.S. after 30 years in existence (according to a New York Timesestimate), EEMs are experiencing popularity again. This expansion is partly fueled by cooperation from banks, whose incentives to offer EEMs are quite simple: owners of "green" buildings have lower operating costs than owners of conventional homes, and these lower costs enable them to afford larger mortgages. Wells Fargo, for instance, has invested $3.25 billion in green buildings since they launched their Environmental Commitment Program in 2005.
How to Qualify for an EEM
To qualify, homeowners must submit the house or construction plans for an energy audit, arranged by the prospective lender. The lender will then use the audit to determine which energy improvements will save more money than they cost. Specifically, the lender will want to see two things:
that the monthly utility savings generated by the improvements are greater than the added monthly cost of the energy-efficient mortgage; and
that the total savings are greater than the total costs over the lifetime of the improvement, including maintenance costs.
In some cases, an improvement that is not found to be cost-effective may be financed anyway if all of the improvements, together as a package, pass the cost-effectiveness test. The energy audit, which may cost several hundred dollars, may be financed as part of the EEM.
EEM Types
Conventional EEMs, offered by Fannie Mae and Freddie Mac, are the most widely available EEMs. Homeowners can spend up to 15% of the appraised value of the home on energy improvements and thereby qualify for a loan that is 15% greater than they would have received under normal conditions. In addition to allowing the lender to increase the borrower's loan by a dollar amount equal to the estimated energy savings, these loans also adjust the value of the home to reflect the value of the energy-efficiency measures. This perk removes the possibility that the real estate agent will ignore energy-efficient improvements while assessing the home's value.
Federal Housing Administration (FHA) EEMs allow lenders to add the costs required by energy improvements to a mortgage loan that has already been approved. These loans are available for site-built as well as for manufactured homes. The addition cannot exceed $4,000 or 5% of the value of the home, whichever is greater, up to a maximum of $8,000.
The Veteran's Administration (VA) EEM is restricted to qualified reservists, veterans, and other military personnel. The VA caps loans for energy-efficient improvements at between $3,000 and $6,000.
ENERGY STAR® EEMs, while still under development, will incorporate the costs of energy-efficiency improvements into the loan itself, allowing borrowers to pay for those investments over the life of their loan, and to deduct the interest from their federal and state income taxes. Participating lenders also offer borrowers additional financial benefits beyond the value of the home energy savings, such as discounted mortgage rates, reduced loan fees, and assistance with closing costs.
To determine a home's energy rating, an energy audit is conducted by an investigator who works in accordance with qualification standards created by the U.S. Department of Energy. The inspection takes into account everything from the types of insulation and windows installed, to the efficiency of the heating and cooling systems and other major appliances.
In summary, lenders offer a number of different types of mortgages to help borrowers afford energy-efficient improvements for their homes.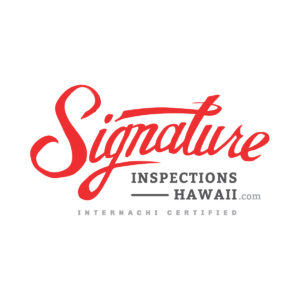 Signature Inspections Hawaii, LLC, is FULLY Insured & "NATIONALLY CERTIFIED" by InterNACHI.  InterNACHI also requires inspectors to continue their education through accredited courses, conferences, online learning, etc… and annual Inspector Certificate Testing in order to hold a current certificate.
808.388.3425
Trevor Drinen  |  CPI Certified Professional Inspector # NACHI16122702
*For a more detailed explanation of the inspection process please feel free to visit: InterNACHI Residential Standards Of Practice and InterNACHI Code Of Ethics .